The individualised CO₂ event calculator for your website
In the meantime, nearly all hotels and conference centres either attain environmental certification or plan to deal with the issue of sustainability. You can work together with atmosfair in order to offer your event customers options for taking action.
With the atmosfair CO₂ event calculator on your website, your customers can calculate and offset the climate impact of your event in just a few steps directly on your homepage.
The numbers for the building and event rooms in your venue are saved in the calculator and form the basis of the emissions calculation.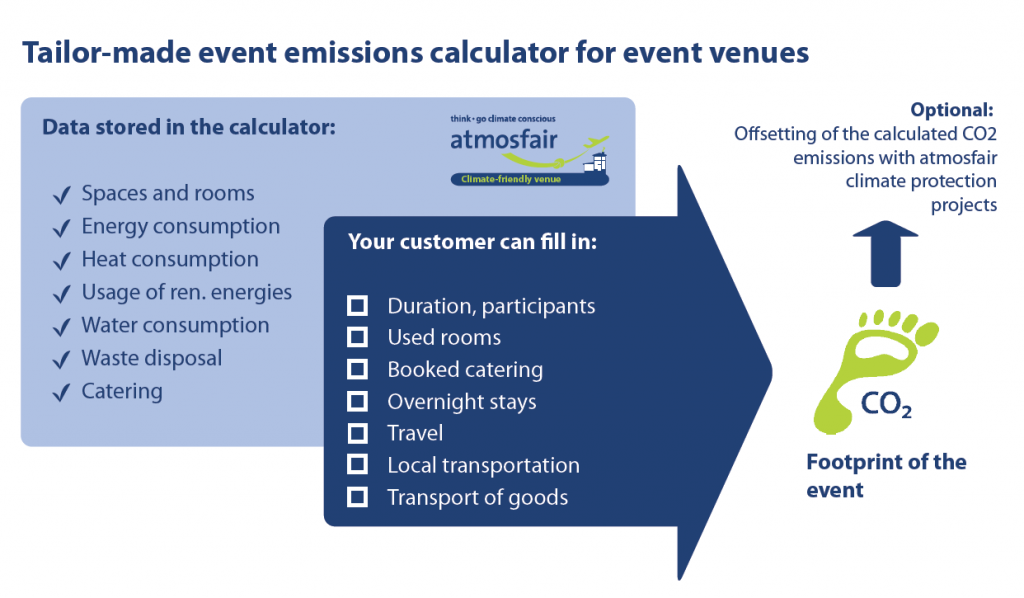 You can find an example of the CO₂ event calculator here.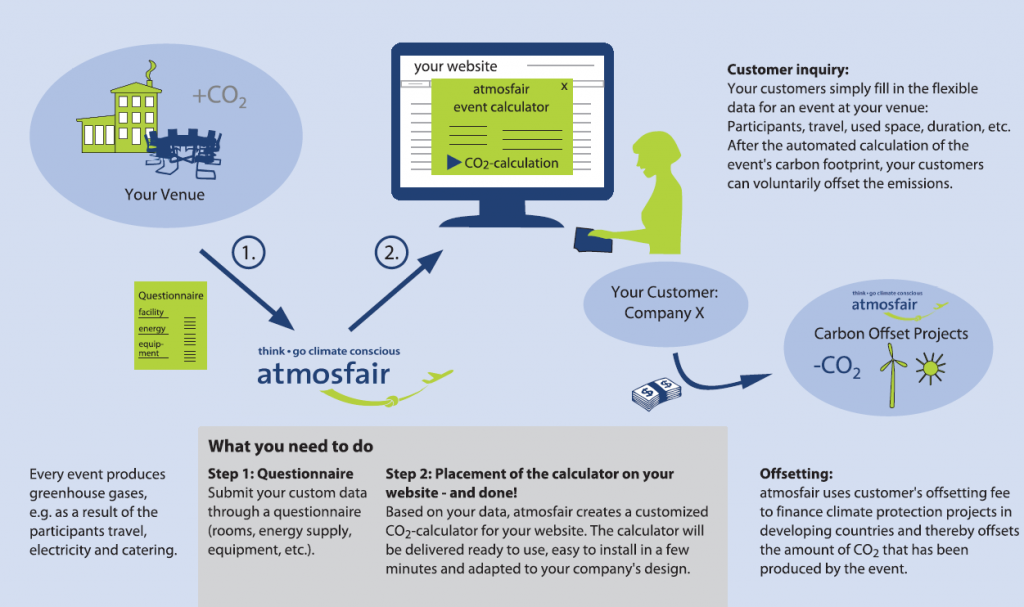 Your benefits
CO₂ balance for your customer's event individualised for your event locations
Simple integration on your homepage by way of iFrame without any programming effort on the part of your IT employees
CO₂ event calculator in your corporate design (colours, fonts, logos)
Positioning in a growing customer segment
Customer service free of cost
Better cross-linking of your website on the topic of the environment and climate so that it can be found quickly in search engines
Customer loyalty
Credible certification (calculator following the VDR Standard)
Sustainability communication by way of atmosfair logos, certificate, and contributions to the atmosfair newsletter, social media channels, and on the atmosfair website
Aside from the individualised CO₂ calculator for your venue or hotel chain, we can also support you in offering your customers a conference flat rate for green meetings. Event customers and companies are often no longer satisfied with conventional business or basic conference flat rates. The demands within the MICE branch are constantly growing, and ever more venues must deal with the topic of climate protection and environmental responsibility.
atmosfair offers you different solutions for a climate protection component as part of your green conference flat rate. In this flat rate, the event customer receives accounting and offsetting for CO₂ emissions related to events besides the usual services provided in a conference booking. These are passed on from atmosfair to your venue in the form of the CO₂ values of the event per day and per participant. Depending on the duration of the event, number of participants, and number of rooms booked, atmosfair calculates an offsetting sum for your conference flat rate. In this way, the customer can see the CO₂ emissions that are created through the conference in the CO₂ accounting and offset them.
Tips for CO₂  avoidance
CO₂ calculation of your event emissions following the VDR Standard
Development of custom climate protection contributions as part of your green conference flat rate
Sustainability communication, for example, being introduced in our Best Practice group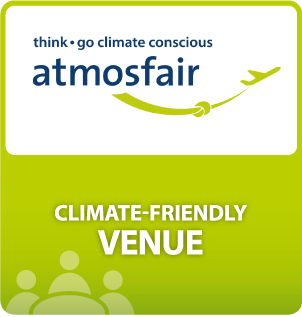 The individualised CO₂ event calculator for your website
Your contact at atmosfair
Cathleen Herrich
Key Account Travel, Events & CO₂ Reporting
Dipl. Tourism
+49 (0)30 120 84 80 - 20