As a company, would you also like to appear climate conscious within the scope of company events, conferences, and meetings? As an event agency, would you like to distinguish yourself from competitors and take climate protection into consideration in your event organisation? Is the topic of sustainability already a central component of your organisation or work?
atmosfair can help you with the implementation of climate-friendly events by taking over all of your CO₂ accounting and offsetting. The only thing that you must do is enter the available event data into our online CO₂ event calculator.
To see our online CO₂ event calculator click here.
If you are planning a large event and need help with the calculation and reduction of emissions, please feel free to contact us directly. If you decide to offset the event-related CO₂ emissions in this case, CO₂ accounting through atmosfair will not cost you anything.
The biggest contributors to emissions at events (on average)
Travel: approx. 70%
Lodging: approx. 15 %
Food: approx. 10%
Energy requirements of infrastructure: approx. 5%.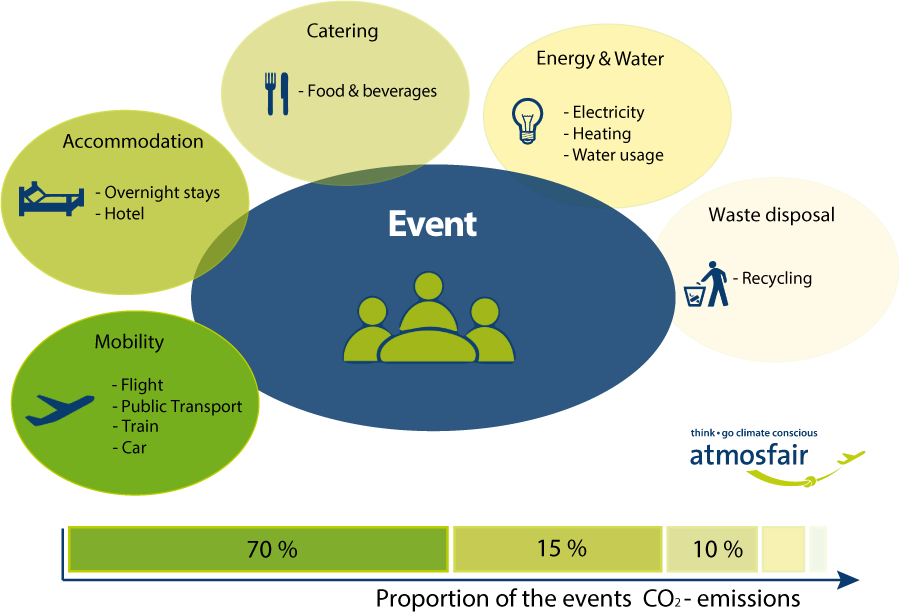 The benefits
Be aware of your carbon footprint: This allows for emissions comparability over time and the ability to identify potential ways to reduce emissions.
Corporate responsibility communication: Use atmosfair's logo publicly to enhance your company's credibility.
Competitive advantage: Environmental engagement is a key concern to ever more customers (B2B and B2C). Use climate awareness to your advantage.
Deduct your climate contribution from your taxes: atmosfair is a registered charitable organisation; the receipt for your donation is tax-deductible in Germany
Steps towards holding climate-friendly events
Avoidance: The first step to avoiding emissions is comprehensive planning. In the first place, this means using ecologically generated power. The next step is encouraging guests to switch to more environmentally friendly means of transportation by providing information about local public transport. See our information materials below for more ways to reduce emissions.
Environmental accounting: The second step is to calculate the amount of CO₂ emissions that cannot be avoided. This calculation is based on both the unchangeable realities of the event's location as well as on the factors of the particular event that can be manipulated. Using the information you provide, our online calculator will ascertain the climate-related effects of your event. If you are planning a major event and need help calculating and reducing emissions, please contact us directly.
Offset: The third step in holding a climate-friendly event is offsetting the unavoidable emissions through atmosfair. You will receive a receipt that can be deducted from your taxes (in Germany).
Your contact at atmosfair